Main content starts here, tab to start navigating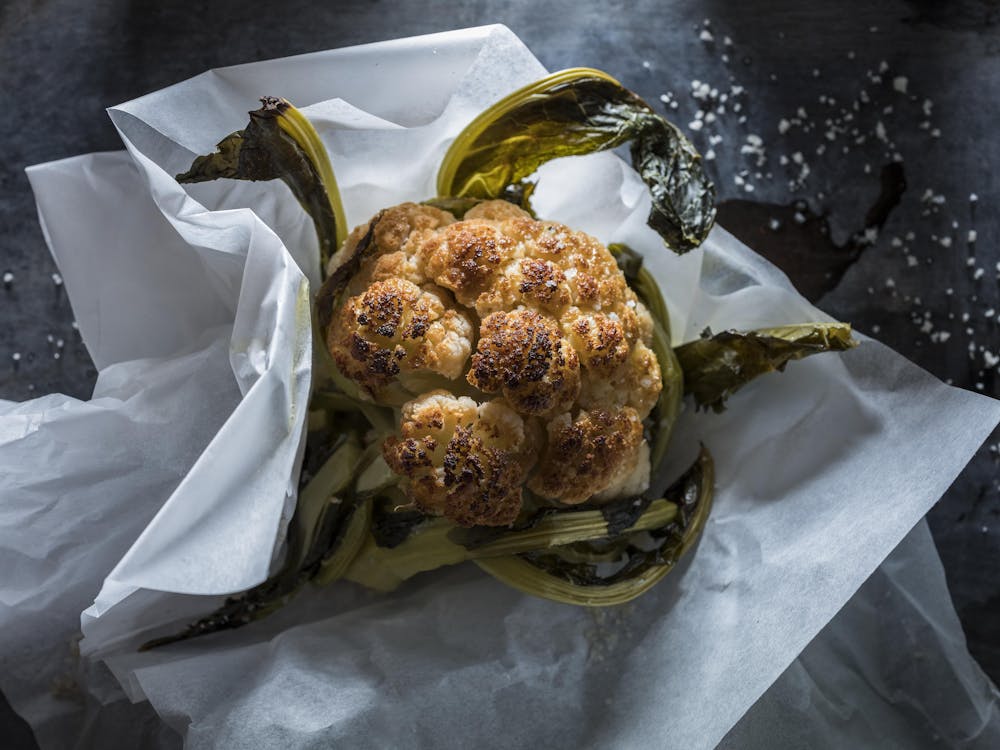 Whole Roasted Cauliflower Recipe
Logics:
The cauliflower was once a cabbage - so was broccoli, kohlrabi, and brussels sprouts. About 5,000 years ago, man domesticated cabbage and chose the specimens with the biggest flowers to hybridize, when the cauliflower was formed. That gave birth to a cabbage that is almost all flower.
Since then, throughout ages, cultures, and cuisines, people mistakenly saw the cauliflower as a bouquet of cauli-flowers, so they broke it down into tiny flower fragments. It's like taking an flower, tearing its petals and claiming that each of them is a flower. We understood that and made the decision never to break apart any more flowers.
The roasted cauliflower is the outcome of this decision. When we looked at the flower once more, we saw that it resembles a brain in size and in texture. We wanted them to look like a brain- golden and crispy on the outside, soft and tender on the inside.
We found ourselves caressing them with both hands. The secrets of cooking are often found within the movements of the body, in how it reacts to the material that it's touching. This is how we found the secret for the exact amount of olive oil: it's the amount gathered by two palms of hands, bathed in oil.
Ingredients:
1 medium-sized cauliflower
2 tsp olive oil
Salt
Instructions:
1. To prep the cauliflower, slightly cut the base of the cauliflower but make sure to keep the leaves intact.
2. Bring a pot of very salty water to a rolling boil. Boil the cauliflower for about 7 minutes. It's ready when you're able to pierce it with a fork, but is still a little firm.
3. Take out of water and place on a baking tray. Let chill. Preheat the oven to 480 ºF.
4. Once chilled, rub it thoroughly with olive oil and sprinkle with salt. Roast in the oven until beautifully golden brown.
5. To serve, drizzle with additional olive oil and a pinch of salt. *be sure to enjoy the leaves!