Main content starts here, tab to start navigating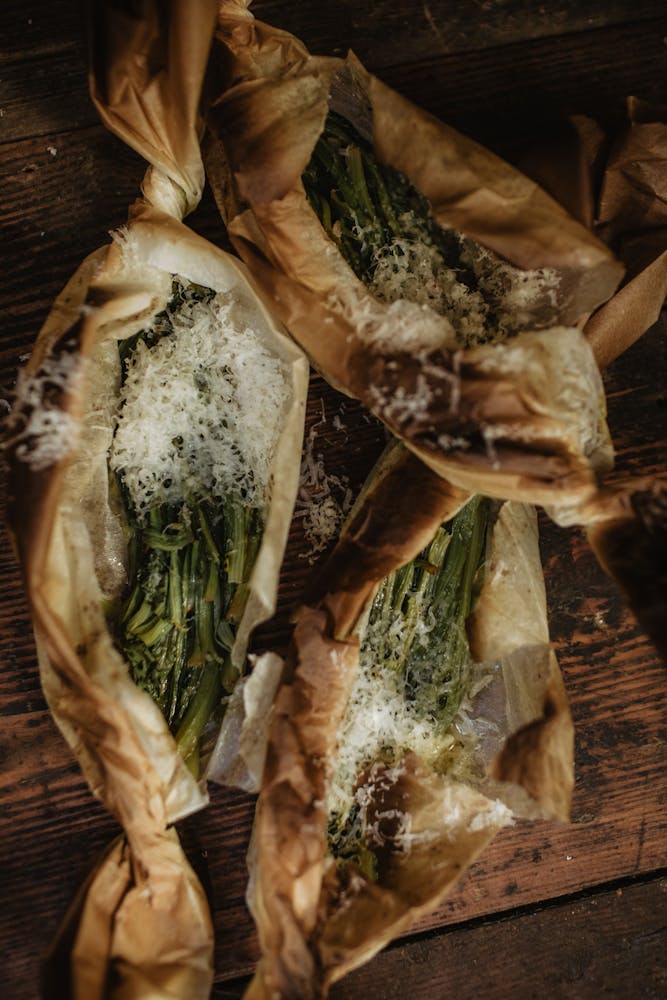 Spinach Stems Melting in a Paper Wrap
Ingredients:
A large bunch of spinach leaves (about the same volume as a serving of pasta)
2 tbsp butter
Mechanics:
1. Lay out a large piece of parchment paper on your work surface. In its center, place the spinach stems in straight lines, like spaghetti.
2. Roughly chop or tear the butter and scatter along the stems. Drizzle a few drops of water and add a pinch of salt.
3. Preheat the oven to 450℉.
4. Lift the paper from its long ends and fold in half, in a parallel and precise way. Create a small fold, 2cm thick, along the entire edge. Now make another fold in the same direction and size, along the edge. Continue to make one last fold. You should get an envelope in which little space is left over the stems that lie in its center.
5. Twist both open ends shut, like a candy wrapper. This way, you create a space that enables evaporation to take place in the oven's heat.
6. Place the envelope on a tray and place the tray in the oven for 5 minutes.
7. When you remove it from the oven, the envelope should be swollen from the fumes and its color charred to a dark brown. Place it gently on a cutting board. Using a knife, make an opening in the top center of the envelope. The steam will burst out.
8. The stems should be melted and organized, wrapped in a warm emulsion of water and butter. Grate a little parmesan on top and serve immediately.