Main content starts here, tab to start navigating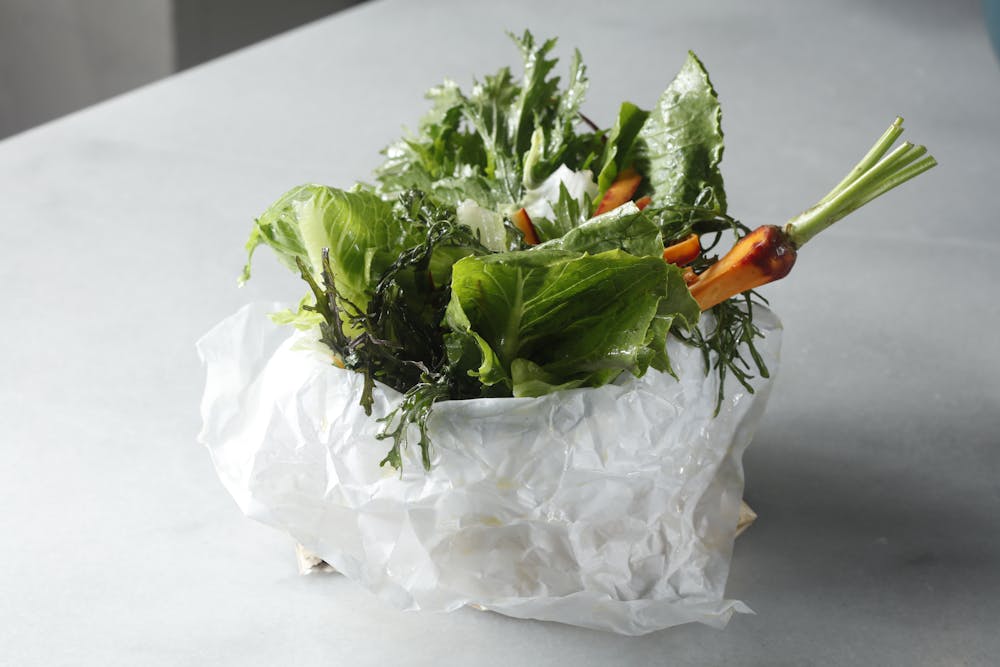 Green Field Salad Recipe
Logics:
The person receiving the green field should see something wild but refined, an organized chaos. Once this person has taken a piece of lettuce (and maybe another piece will fall on the table), the wild thing will try to break out of line. The sauce caresses the leaves and doesn't weigh them down - like dew falling in the night. In classic cuisines we come across many sauces that are pre-made and then poured on the food, which allows for avoidable mistakes in precision. Even so, we think it's important to build the sauce directly on the food, to use the lettuce leaves as the 'mixers' of the sauce. And so, making a green field is the essence of delicacy and concentration that are needed in order to consume the complexity of the green field and pass it on to the food in front of us. We don't hide, we fully understand the way to express a part of the earth through a brown paper bag, a head of lettuce and true purpose.
Ingredients
1 head green Romaine lettuce, washed and dried
6 slices peeled orange carrot
4 slices red onion
White wine vinegar (ideally from Bourgogne)
Olive oil
Salt
Mechanics
Tear the lettuce leaves with your hands into bite size pieces.

Add lettuce, carrots and onion to a bowl. Sprinkle some salt, vinegar and olive oil (75% olive oil, 25% vinegar) and mix with your hands in airy movements, without crushing the leaves and without mixing too much.

Serve in a paper bag, or in a bowl.