Main content starts here, tab to start navigating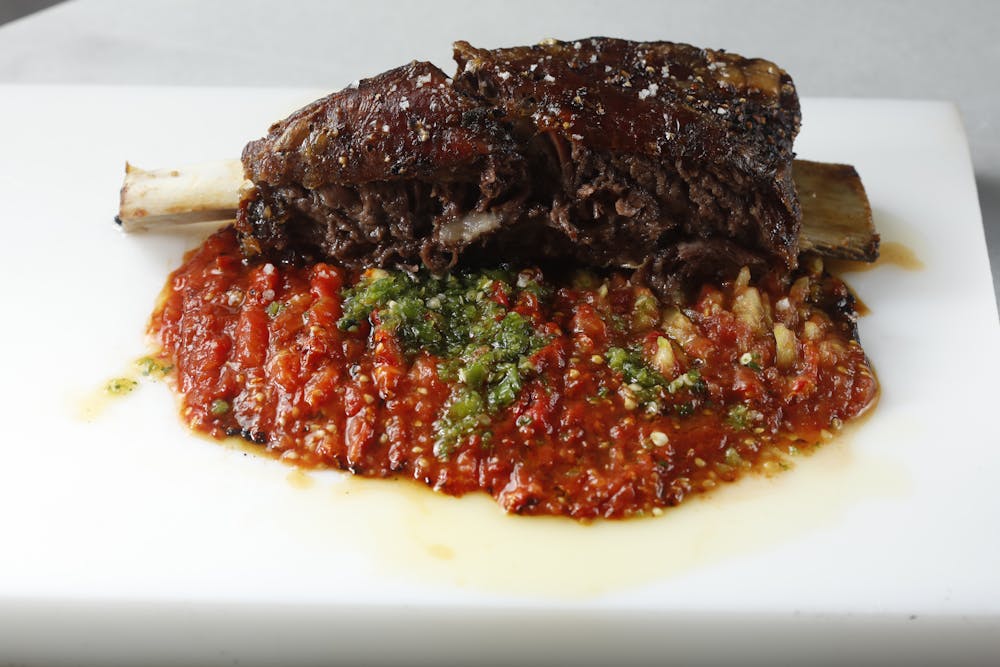 Dinosaur Recipe
Logics:
The Dinosaur is a slow cooked whole cut of beef short rib, served on top of a carpet of roasted tomatoes with olive oil, sea salt and green spicy sauce. The meat is super tender and melts off the bone. It's called the Dinosaur because the large cut of meat with the bone in feels very primal.
We created this dish in Tel Aviv because we're always looking for new shapes that gives us opportunities to do things in a different way. Usually short ribs are cut to separate the bones but one time, we realized that we can instead use whole bone instead of separating the short ribs. It creates a different feeling. If you leave it whole, it provides a lot of meat and allows us to recognize the whole animal.
Many Americans prepare short ribs in a rich, sweet braising sauce which is based on tomatoes with smoky flavors. We remove the smokiness and create our version simplicity with the tomato carpet, which creates a stage for the Dinosaur.
At HaSalon in NYC, we built the kitchen with an extra oven specifically designated for slow cooking. We knew we needed this. The Dinosaur is the first thing the chefs start preparing in the morning because it slow cooks all day.
Ingredients:
Bone-in whole short rib rack
Olive oil
Black pepper
Sea salt
2-3 heirloom tomatoes
Green spicy sauce (recipe here)
Mechanics:
Season cut of meat with olive oil, sea salt and black pepper.

Slow cook in the oven at 250 °F for 7-9 hours, until very soft.

For the tomatoes, chop and drizzle with salt and olive oil. Place under the oven broiler or roast on very high heat for about 10 minutes, until lightly charred (somewhere between a raw tomato and tomato sauce).

Place cooked tomatoes on a serving board. Drizzle with more olive oil and sea salt, and roughly chop to create a smooth carpet.

Serve meat on top of tomato carpet with a spoonful of green spicy sauce.