Main content starts here, tab to start navigating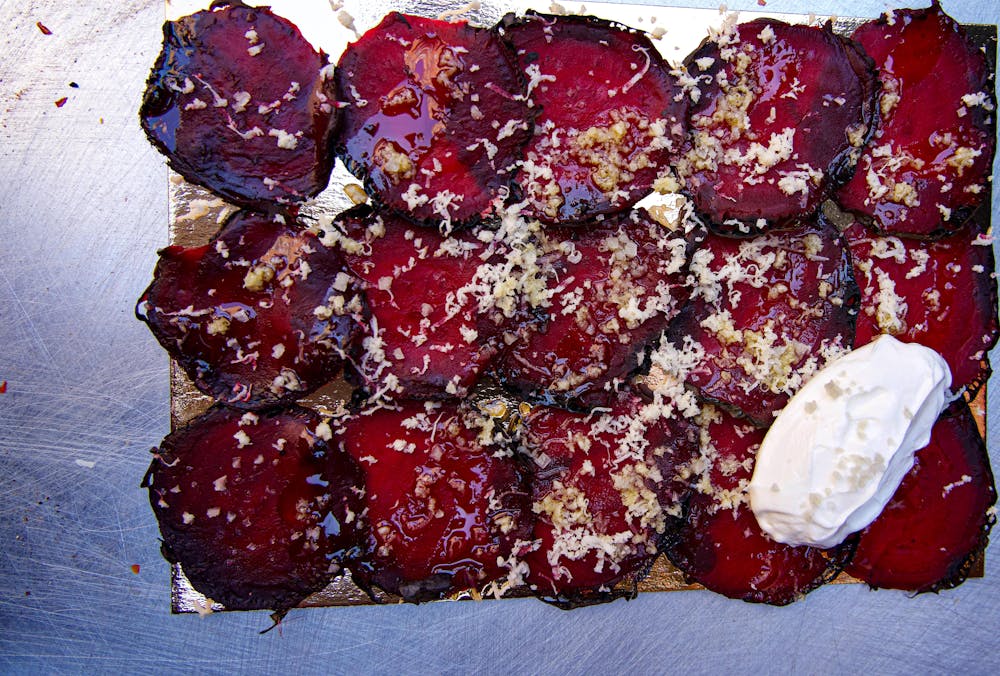 Beetroot Carpaccio Recipe
Logics:
Beetroot is a firm flesh animal, which is fire resistant and can sustain itself for a long time, even in 600℃, which is twice the maximum heat of a premium home oven. It does so with the help of its very thin skin. When it meets extreme heat, its skin gets charred. Charcoal is one of the best heat insulators, and so the heart of the beet remains protected. The beets should remain in the oven's maximum heat for 4 hours, safe in their charred skin. Only their water slowly evaporates from the flesh and gives the beets a prosciutto-like texture. After 4 hours, open the oven and you'll have as many charcoals as the beets you've put in. Take them out. Slice the beets very thin using a sharp knife. The magic will reveal itself. Nothing has touched the beet's heart. It remains red, lifeful. Most of the fluids have evaporated and left it weightless, but it's juicy, sweeter than ever and filled with mineral tastes which you can't find anywhere else. On a large flat plate, spread out the beet slices, overlapping, sprinkle sea salt and olive oil, and add a spoon of sour cream or horseradish cream on the side.
Ingredients:
10 medium beets, fresh and firm, preferably with the stems still attached.
Olive oil
Atlantic sea salt
Sour cream or horseradish cream (optional)
Mechanics:
Preheat the oven to it's maximum temperature

Cut the beet stems at the base. Wash thoroughly in the sink until no dirt or sand remains.

Place the beets on a large baking pan and place in the oven. Cook for 1.5-2.5 hours (depending on the size of the beets). When the beets have charred and weigh about half of their original weight, take out of the oven and put aside to cool.

Once cooled, finely slice the beets with a sharp knife and pave a flat plate with the slices.

Sprinkle Atlantic sea salt and olive oil on top. Finish with a spoon of sour cream or horseradish cream.